Company Tear Sheet
Corporate Profile
360 DigiTech, Inc. (NASDAQ: QFIN) ("360 DigiTech" or the "Company") is a data driven, technology empowered digital platform. Through its platform the Company enables financial institutions to provide better and targeted products and services to a broader consumer base. The Company also offers standardized risk management service, in the form of SaaS modules to institutional clients. When coupled with its partnership with 360 Group, the Company's solutions created noticeable advantages in customer acquisition, funding optimization, risk assessment and post-lending management.
360 DigiTech's core product is an affordable, unsecured, digital line of credit which borrowers typically utilize for consumption spending and often as a supplement to credit card debt. To apply, potential borrowers complete a simple online application and, for approximately 95% of recent credit applications, a fully automated credit decision is rendered. Approved borrowers are provided access to funds typically within five minutes and may select the loan structure best suited to their consumption needs.
The Company's value proposition is an intuitive platform connecting its borrowers and funding partners.
Borrowers. 360 DigiTech's borrowers tend to be young with demonstrated credit histories. These borrowers are drawn to the platform for instant, transparent access to credit delivered through a simple digital interface. Often the Company can offer borrowers larger credit balance at lower prices with more variable tenors as compared to other online consumer finance platforms.
Funding partners. 360 DigiTech enables its funding partners. Majority of the Company's funding comes from its financial institution partners who partner with it for access to its high-quality borrower base as well as platform tools including borrower evaluation and matching, workflow automation and enhanced risk management. The Company's value proposition is further magnified by the repeat lending and cross-sell opportunities it provides to its funding partners.
360 DigiTech has developed a proprietary technology platform supporting the full transaction lifecycle from credit application through settlement. The brevity, simplicity and speed of the credit decision process reflects the strength of the Company's data analysis, particularly around identifying fraud, which represents approximately 50% of bad debts industry-wide according to Oliver Wyman. For instance, the Company employs a robust and highly automated identity authentication process based on facial recognition to filter fraudulent credit applications. Further, the Company's advanced analytical capabilities help translate data into actionable insights, where it has found statistical significance leveraging behavioural and social data sets to assess a potential borrower's ability and willingness to repay a loan. 
Stock Quote
Change
Volume
52 Week High
52 Week Low
Stock Chart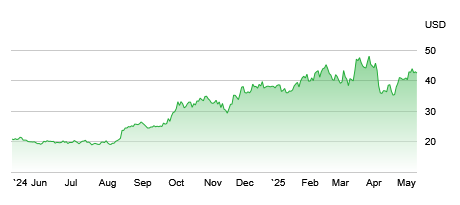 Data Provided by Refinitiv. Minimum 15 minutes delayed.